For most, Arlington Virginia brings to mind historic treasures like the Arlington National Cemetery, the Pentagon, and the Marine Corps War Memorial. Arlington is also known for its unrivaled views of the nation's capital just across the Potomac River. Originally part of the District of Columbia, today's Arlington is a vibrant urban destination packed with its own exciting local flavor. Just minutes from Washington, Arlington's lively neighborhoods including Crystal City, Roslyn, Ballston, Pentagon city, Clarendon, and Shirlington offer visitors countless choices.
In Arlington, you will find a unique combination of National History, local culture, and unexpected fun. The more than 40 hotels offer convenience and affordable options ranging from luxurious boutique properties to major meeting and convention venues. And wherever you stay, you will be within easy reach of first-class shopping, diverse dining, and an eclectic local arts and entertainment scene. From favorite brands to funky boutiques, major malls to charming Main Street shots, Arlington's hundreds of stores have something to satisfy every taste.
One of the must-see attractions in Arlington is the National Cemetery especially if you are a fan of patriotism and history. As the final resting place to over 400,000 American servicemen, this cemetery hosts memorial events and regular graveside services and has more than 600 acres to explore.
When it comes time to dine, you can savor an amazing array of international cuisines or enjoy classic American flavor. And when the sun goes down the curtain goes up in this city. Dubbed a hotbed of cultural abandon by the Washington Post, Arlington has Tony award-winning theater, nationally recognized dance companies, and cool live music venues. Whether or not you take in a show, lively pubs, lounges, and sports bars abound.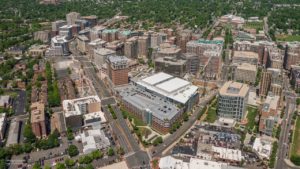 Even with all there is to see and do in Arlington, you are just minutes from the nation's capital and all its attractions. From Arlington's 11 metro stations, it's a quick ride to the National Mall, the Smithsonian museums, Georgetown, and much more. Named one of America's most walkable communities, Arlington is as easy to get around as it is to get to.
Home to Ronald Reagan Washington National Airport with easy access to Dulles in Baltimore, and Washington International Airports, Arlington also has an abundance of environmentally-friendly public and private transportation. Once you are here, the Arlington Convention and Visitors Service wants to make sure you have the ultimate DC Arlington experience. Come to Arlington soon and experience national history and local flavor near the nation's capital.